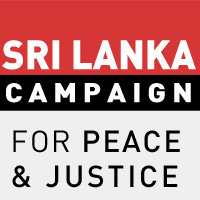 The
Sri Lanka Campaign For Peace And Justice
is a non-partisan campaign backed by Sri Lankans and non- Sri Lankans.
About the campaign
Edit
The campaign was founded by individuals concerned with fundamental humanitarian and human rights issues. It is totally independent of all parties and groupings inside and outside Sri Lanka. Specifically, the campaign has no ethnic, religious or regional affiliations, its concern is the well-being of all Sri Lankans. It is staffed by volunteers who come from many different countries and ethnic groups, none are paid.
The campaign's immediate priority is to end the continued suffering of almost 100,000 civilians still currently held in the crowded and insanitary main internment camps and closed transit camps, and to safeguard the fundamental human rights of more than 10,000 people who are detained on suspicion of having been involved with the LTTE.
Beyond that, the campaign supports the right of all Sri Lankans, irrespective of race or religion, to voice their opinions peacefully and without fear of assault or murder. It seeks a full investigation of crimes committed by all parties during and since the recent conflict. And, without favouring any particular political or constitutional formula, urges the government and all other parties in Sri Lanka to lose no time in working together for a peaceful political solution of the problems and grievances that have given rise to so much violence in the past.
Focus of aims:
Edit
Take action towards securing the freedom of 110,000 Sri Lankans still interned in camps, some with no outside world contact
Challenge human rights abuses, particularly the use of torture and targeting of human rights defenders
Promote a lasting peace in Sri Lanka based on justice and reconciliation.
Duran Duran connections
Edit
On 30 November 2009 the band's official website duranduran.com announced that the band were supporting the campaign.
Comments by Simon Le Bon
Edit
"In 1983 Duran Duran came to Sri Lanka to film music videos for the songs "Hungry Like The Wolf," "Save A Prayer" and "Lonely In Your Nightmare." What struck us then, more than any other thing, was the dignity, the goodness and the serenity of the Sinhalese people. I am sure that this cannot have changed in the intervening years, so we appeal to your sense of compassion and humanity, and ask that you set free the Tamil civilians who have not committed acts of violence against you, yet are now being held prisoners in camps and detention centres of various types by your government".
References
Edit
http://www.srilankacampaign.org/home.htm
Ad blocker interference detected!
Wikia is a free-to-use site that makes money from advertising. We have a modified experience for viewers using ad blockers

Wikia is not accessible if you've made further modifications. Remove the custom ad blocker rule(s) and the page will load as expected.