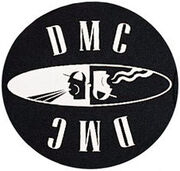 Disco Mix Club
(DMC) is a DJ remix service founded by
Tony Prince
.
About the DJ remix service
Edit
The DJ remix service began as a radio show (Disco Mix Club Show) in 1981, on Radio Luxembourg in the UK. Prince helped popularise a new style of DJ mixes using the turntable as an instrument. DMC started operating as a remix service in 1983, producing remix cassettes in February of that year and vinyls in July 1984. As early as 1989 they began producing compilation CDs, and later began issuing remixes exclusively on CD. In 1986, DMC started the annual DMC World DJ Championships through the Mixmag magazine.
Remixes of Duran Duran include the "Save A Prayer: DMC Strictly DJ Only" record, and the "DMC Megamix" released on the unofficial album Megamixes: Vol. 2 in 2001.
A selection of DMC releases
Edit
Ad blocker interference detected!
Wikia is a free-to-use site that makes money from advertising. We have a modified experience for viewers using ad blockers

Wikia is not accessible if you've made further modifications. Remove the custom ad blocker rule(s) and the page will load as expected.